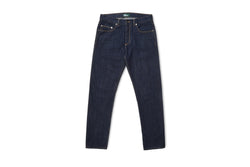 Dress Denim in Indigo
Denim may have workwear roots, but it has become a central part of the modern urban wardrobe. We've designed these jeans to be a bit more polished and refined than their rugged counterparts by tweaking the fit and design - the result is a pair of jeans ready for a night out or just a day in the office.
Free Shipping on U.S. Orders
Factory
Our jeans are made in Los Angeles, a city with a rich history of manufacturing and washing denim for some of the best brands in the world. Our manufacturer specializes in jeans, and many of the employees have more than 25 years of experience working on high-end denim.
Specifications
• Slightly higher rise, slim-straight leg
• 100% cotton selvage denim from Japan, 13 osy/445 gsm
• One-wash finish
• One-piece fly
• Smaller tucked belt loops and back pockets
• Reinforced back pockets
• Hidden inner pocket
• Chainstitching throughout
• Made in California, USA

Pre-order Details
Once we have enough orders for production, we will inform all purchasers of the start date. We anticipate the Dress Denim to take about two months to manufacture and expect delivery to you within three months of the start of production. As a new brand, we appreciate your support and patience as we grow and we invite you to chat with us if you need anything at any time.
Expected Ship Date: May 2019
Fit
Our jeans feature a slightly higher rise, which allows for shirts to be tucked in (and stay that way). The leg is slim but not restrictive, creating a sharp silhouette that will pair well with tailored clothing.
Design Details
Smaller back pockets give the jeans a more refined look and keep them from peeking out below a sportcoat. Likewise, smaller belt loops and matte hardware help the jeans achieve a more refined look. We also opted to omit the leather patch in the back, since it looks a bit cleaner without one. And the design details don't stop on the outside - the interior French seams and one-piece fly may only be visible to you, but we think you'll still appreciate them. Lastly, we gave you an extra hidden pocket to keep your keys from scratching your phone.
Fabric
We use denim from Kuroki, a Japanese mill that has been making top-tier fabrics for 45 years. The denim is rope-dyed and then woven on vintage shuttle looms - it takes more fabric to make each pair, but we think the result is worth it. We take a classic 445 gsm raw, indigo-dyed selvage denim and give it a quick wash - just enough to soften it up while maintaining its inky indigo color.