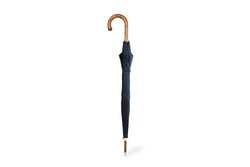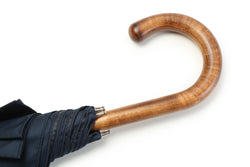 Solid Stick Umbrella in Scorched Maple
There's nothing quite like the experience of walking down the street with a solid stick umbrella - unlike most umbrellas on the market, these ooze with old-world craftsmanship and have a wonderful heft and sturdiness to them. This umbrella is made in Italy from a single piece of maple wood, which is singed before it enters the shaping process. We can confidently say that having one of these by your front door will make you look forward to drizzly days. Sample shown with a navy canopy. 
Free Shipping on U.S. Orders
Factory
Our Italian umbrella manufacturer has been a leader in the industry for decades. Each umbrella is carefully assembled by hand, due to the unique nature of each individual wood stick.
Specifications
• Solid stick handle - each handle is made of one piece of wood
• Scorched maple stick
• Metal tip for added durability
• 100% polyester canopy for maximum water resistance
• Length: 36"
• Diameter: 42"
• Made in Italy


Shipping Details
The Solid Stick Umbrella in Scorched Maple is available in stock and ready to ship.
Ships Immediately
Materials
Every solid stick of wood is shaped using steam, a process that can take up to six months. After this, the pieces are sanded to a satin finish and connected by hand to the polyester canopy.