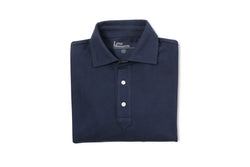 Long-Sleeve Polo
Target Price: $50
Polo shirts may have become unfairly associated with frat parties and Best Buy employees, but they can be an excellent pinch hitter for your business casual wardrobe. Ours are designed to be a substitute for a dress shirt, complete with a classic spread collar, long sleeves, and a mitered cuff. Wear it with chinos or denim, under a sportcoat or jacket, or just roll up the sleeves and head out the door.
Factory
Our polos are produced in a region of India known for its cotton. Because of this, our cotton pique is woven, dyed, cut, and sewn all in the same city. This gives us much more control over the fabric and allows us to customize the weight, weave, and color to a greater degree.
Specifications
• Lightly lined spread collar with 8cm / 3 ⅛" collar points
• 3mm Mother-of-Pearl buttons from Australia
• 3-button placket
• Long sleeves with mitered cuffs
• 235 gsm 100% cotton pique from India
• Slim fit
• Made in India


Interest Check Details
We are currently finalizing the development of this product and will be moving towards production if there is sufficient interest. Sign up to be notified when the Long-Sleeve Polo becomes available for pre-order. If you have any thoughts on the design, we'd love to hear it - send us an email or chat to get started.
Expected Launch Date: Q1 2019
Fit
Our polos are cut for a moderately slim fit; with the forgiving stretch of the kitted pique, most people with take their normal size.
Design Details
The lightly-lined collar is soft enough to be expressive, while keeping enough structure to stay in place. Mother-of-pearl buttons from Australian-sourced shellfish are thick and iridescent, giving the polo a luxurious feel. Our placket is deep enough to give your torso a flattering V shape - we recommend unbuttoning the two top buttons (or perhaps all three, if you can pull it off).
Fabric
100% cotton from Tiruppur, India. The 235 gsm weight gives it a bit of heft without feeling too warm for all-year wear.